Cheater Code (Paperback)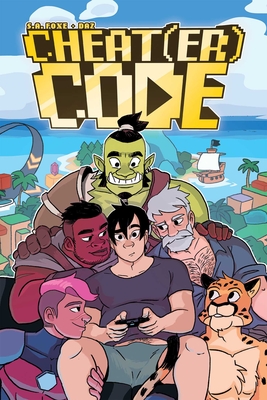 $19.99
Available to Ship from Warehouse - Ships in 2- 5 days.
Description
---
An erotic graphic novel that pushes all the right buttons, Cheat(er) Code is a hilarious, sexy, and surprisingly tender story about navigating heartbreak and rediscovering your own confidence.

Kennedy and his boyfriend Seth have been together six years, and honestly, it's pretty comfortable. That is, until the couple gets into a huge, potentially relationship-changing fight. Kennedy turns to his trusty video games to distract himself, but when a random power surge hits, he's transported inside his video game library. Dazed and incredulous about his digital predicament, Ken finds himself seduced by a silver daddy, rutting with a couple of barbarians from an epic fantasy, and sorting through a lot of confusing feelings about his favorite anthropomorphic cheetah character. Kennedy will need to confront his biggest fears to get back to reality before the game glitches him out of existence, but sometimes, the unexpected (and unexpectedly sexy) is just what you need to hit the reset button.

"Hilarious and heartwarming, it's an absolute must for your favorite gaymer and an incredible read for anyone who's ever console-d themselves through a heartbreak." —Tini Howard
About the Author
---
S. A. Foxe is the fancy initialed nom de plume for Steve Foxe, who writes and edits a bunch of comics and kids books. He lives in Queens, where he tweets about comics, scary movies, his boyfriend, and their dog at @steve_foxe.

Daz a.k.a. Daryl Toh is a freelance illustrator and comic book artist who lives in Malaysia. When he's not drawing full-time or conjuring the dead, he can be pretty decent part-time babysitter. You can find most of his work on Instagram at @tohdraws.
Praise For…
---
"Emotional, sexy, relatable and surprising. CHEAT(ER) CODE is great fun and great storytelling that will make you love comics all over again."
— Terry Blas

"An episodic gay sci-fi smut story in the vein (!) of Barbarella, CHEAT(ER) CODE takes gaming genres and, well, *fucks with* them."
— Anthony Oliveira

"CHEAT(ER) CODE is the kind of erotica you'll be sneak-reading on the train because you can't put it down."
— Tini Howard

"Underneath the winking fan service, CHEAT(ER) CODE manages to tell a tender story about coping with betrayal that feels absolutely authentic to the modern gay experience."
— Jon Cairns

"The heartbreaking, dazzling, ultra-exciting gay romance adventure that needs to be on every grownup's bookshelf."
— Sina Grace