Best Friends: The True Story of the World's Most Beloved Animal Sanctuary (Paperback)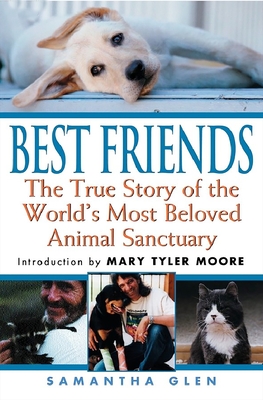 Description
---
"Sinjin the badly burned black cat. . .who survived to welcome others home Victor the abandoned Australian Shepherd mix. . . the capo among dogs Tyson and Tommy, two tiny black kittens. . .who had something to teach us all

Discover Best Friends A Place Where Every Animal Is Safe. . .Loved. . .And Never, Ever Killed

In the summer of 1982, a group of young men and women pooled every penny they had and bought 3,000 acres of high desert called Angel Canyon, Utah. It was to become the most famous "no--kill" animal sanctuary in the world. . .a haven for over 2000 furry and feathered friends including stiff--legged Benton who is "chairpurrson" of the TLC club. . .the infamous Goatie, comforter of horses. . .Baa Baa Ram Das, the sheep who teaches lessons. . .and Amra, the gigantic Malamute who is sheriff of Dogtown backed up by his deputy Rhonda, the tiny terrier who took one look at him and fell in love.
About the Author
---
SAMANTHA GLEN is the co-author, with Terri Crisp, of Out of Harm's Way. With Mary Pesaresi she has also written Family: Everyday Stories About The Miracle of Love, which the Family Channel honored with its Seal of Quality and voted best adult book of 1996, and Search and Rescue. She currently writes a bi-weekly column called "Animal Talk" for a Northern Nevada newspaper. She lives with her husband and four-legged family in Lake Tahoe.
 
MICHAEL MOUNTAIN, one of the founders of Best Friends, still works as their Outreach and Media director.
Praise For…
---
This is its story. . .of how it came to be, the people who built it, and the animals who now and forever call it home."