Betty Before X (Paperback)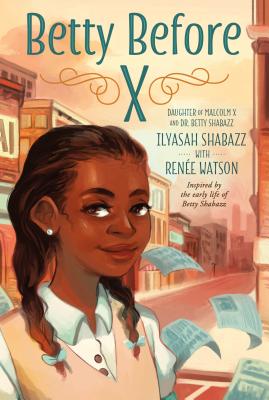 $7.99

Available to Ship from Warehouse - Ships in 3 - 6 days.
Description
---
Betty Before X is a powerful middle-grade fictionalized account of the childhood activism of Betty Shabazz, Malcolm X's wife, written by their daughter Ilyasah Shabazz.

In Detroit, 1945, eleven-year-old Betty's house doesn't quite feel like home. She believes her mother loves her, but she can't shake the feeling that her mother doesn't want her. Church helps those worries fade, if only for a little while. The singing, the preaching, the speeches from guest activists like Paul Robeson and Thurgood Marshall stir African Americans in her community to stand up for their rights. Betty quickly finds confidence and purpose in volunteering for the Housewives League, an organization that supports black-owned businesses. Soon, the American civil rights icon we now know as Dr. Betty Shabazz is born.

Inspired by Betty's real life—but expanded upon and fictionalized through collaboration with novelist Renée Watson—Ilyasah Shabazz illuminates four poignant years in her mother's childhood with this book, painting an inspiring portrait of a girl overcoming the challenges of self-acceptance and belonging that will resonate with young readers today.

Backmatter included.

"[T]his moving fictional account of the early life of the late civil rights leader and widow of Malcolm X draws on the recollections of family and friends. The result is a heart-rending imagining of Shabazz's personal challenges as well as a rare, intimate look at the complex roots of the American civil rights movement. A personal, political and powerful imagining of the early life of the late activist." —Kirkus Reviews, starred review

"Absorbing . . . History comes alive in this illuminating portrayal of the early life of this civil rights activist." —Publishers Weekly, starred review

"An excellent work of historical fiction that will illuminate and spark discussion." —School Library Journal, starred review
About the Author
---
Ilyasah Shabazz
, third daughter of Malcolm X and Dr. Betty Shabazz, is an educator, activist, motivational speaker, and author of multiple award-winning publications, including her books,
Betty Before X
and
X: A Novel
. She is also an active advocacy worker and an adjunct professor at John Jay College of Criminal Justice in New York City.
Renée Watson is the New York Times bestselling, Newbery Honor Book, and Coretta Scott King Award-winning author of Piecing Me Together, This Side of Home, What Momma Left Me, and Betty Before X, co-written with Ilyasah Shabazz, as well as two acclaimed picture books: A Place Where Hurricanes Happen and Harlem's Little Blackbird, which was nominated for an NAACP Image Award. She is the founder of I, Too, Arts Collective, a nonprofit committed to nurturing underrepresented voices in the creative arts, and currently lives in New York City.
www.reneewatson.net; @reneewauthor
Praise For…
---
"...this moving fictional account of the early life of the late civil rights leader and widow of Malcolm X draws on the recollections of family and friends. The result is a heart-rending imagining of Shabazz's personal challenges as well as a rare, intimate look at the complex roots of the American civil rights movement. A personal, political and powerful imagining of the early life of the late activist." —Kirkus starred review

"...absorbing...History comes alive in this illuminating portrayal of the early life of this civil rights activist..." —Publishers Weekly starred review

"An excellent work of historical fiction that will illuminate and spark discussion."—School Library Journal starred review

"The lessons from Betty's life are abundant: forgiveness, gratitude for life's blessings, and planting seeds for the future. Her response to hardship and injustice is timeless."—Booklist

"Set mostly in the black neighborhoods of 1940s Detroit, this affecting novel covers Betty's life from age eleven...to just before the start of high school... The authors tell Betty's story in an engaging and accessible first-person voice; they manage to portray Betty as a relatable pre-teen who likes to dance to Billy Eckstine records and read Ebony magazine even as they lay the groundwork for the remarkable woman she will grow up to be." —The Horn Book