LSAT Logical Reasoning Bible Flashcards: A Comprehensive System for Attacking the Logical Reasoning Section of the LSAT (Paperback)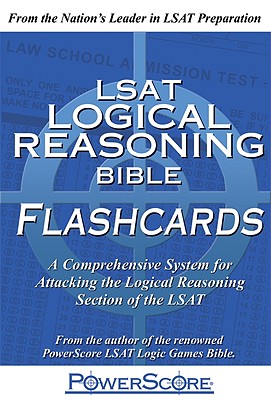 Product may not be available.
Out of Print - The publisher has officially designated the book as out of print.
Description
---
The two Logical Reasoning sections of the Law School Admission Test comprise half of the scored portion of the exam, and Logical Reasoning concepts are tested in the Logic Games and Reading Comprehension sections of the test as well. This set of over 300 double-sided flashcards accompanies PowerScore's renowned LSAT Logical Reasoning Bible , covering everything from the foundational concepts of Logical Reasoning to the most advanced ideas from that best-selling book. These cards allow you to review and memorize Logical Reasoning terminology, help you to develop the ability to asses various types of argumentation, and aid you in recognizing and responding to each distinct question type. Use this portable preparation pack to study at home, in the office, or anywhere you go. While the cards review and reinforce the concepts described in the LSAT Logical Reasoning Bible, they are also an excellent supplement to PowerScore's LSAT courses and other LSAT publications.