The Organic No-Till Farming Revolution: High-Production Methods for Small-Scale Farmers (Paperback)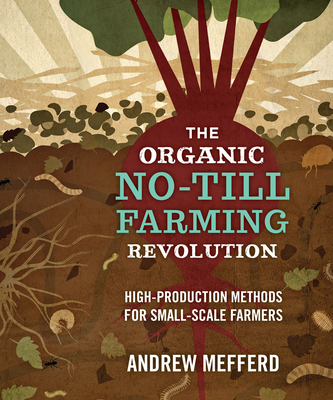 $29.99

Available to Ship from Warehouse - Ships in 3 - 6 days.
Description
---
Aprenda a usar sistemas naturales de siembra directa para aumentar los beneficios, la eficiencia, la captaci n de carbono y la salud de la tierra de su peque a granja.
La revoluci n de la siembra directa org nica, una gu a exhaustiva creada por granjeros, muestra c mo la siembra directa facilita la puesta en marcha de una granja peque a, reduce las emisiones de gases de efecto invernadero, incrementa la eficiencia y los beneficios, y promueve la salud de la tierra.
Aunque la siembra sin arado ha sido un objetivo de la agricultura desde hace mucho tiempo, casi todo el mundo lo utiliza y el arado sigue siendo uno de los paradigmas m's dominantes. Pero el arado mata la vida ben fica de la tierra, acaba con la materia org nica y libera di xido de carbono. Si pudi ramos preparar la tierra sin arar, ahorrar amos tiempo y energ a, aumentar amos la materia org nica de la tierra, captar amos carbono y reducir amos nuestra dependencia a la maquinaria.
Este manual pr ctico incluye:
Por qu los rodillos de labranza no funcionan en la mayor a de las granjas peque as
Una estructura de toma de decisiones para los cuatro m todos de siembra directa: ocultaci n, solarizaci n, mantilla org nica local y aplicaci n en lechos
Ideas para arrancar una granja de siembra directa o transformar una granja activa
Una lista de herramientas, fuentes y suministros.
Este es el nico manual de su clase, escrito espec ficamente para agricultores de granjas naturales a peque a escala que desean expandir o explorar m todos regeneradores y libres de qu micos.
About the Author
---
Andrew Mefferd is editor of Growing for Market magazine. He has spent 15 years working on farms in six states, including a year working on a no-till research farm, and worked for seven years in the research department at Johnny's Selected Seeds. He travels around the world consulting with researchers and farmers on the best practices in greenhouse growing and sustainable agriculture. He is the author of The Greenhouse and Hoophouse Grower's Handbook, and has a passion for promoting local farming movements. He lives and farms in Cornville, Maine.