The Weeding Handbook: A Shelf-by-Shelf Guide (Paperback)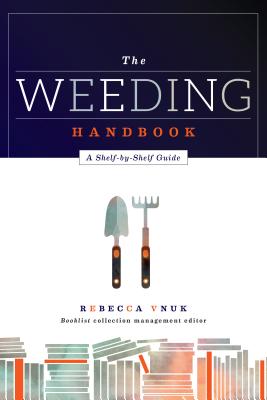 Product may not be available.
Available to Ship from Warehouse - Ships in 3 - 6 days.
Description
---
"No We can't rid of that " Vnuk, author of the popular "Weeding Tips" column on Booklist Online, is here to show you that yes, you can. A library is an ever-changing organism; when done the right way, weeding helps a library thrive by focusing its resources on those parts of the collection that are the most useful to its users. Her handbook takes the guesswork out of this delicate but necessary process, giving public and school library staff the knowledge and the confidence to effectively weed any collection, of any size. Going through the proverbial stacks shelf by shelf, Vnuk Explains why weeding is important for a healthy library, demonstrating that a vibrant collection leads to robust circulation, which in turn affects library budgets Walks readers through a library's shelves by Dewey area, with recommended weeding criteria and call-outs in each area for the different considerations of large collections and smaller collections Features a chapter addressing reference, media, magazines and newspapers, e-books, and other special materials Shows how a solid collection development plan uses weeding as an ongoing process, making it less stressful and more productive Offers guidance for determining how to delegate responsibility for weeding, plus pointers for getting experienced staff on board Gives advice for educating the community about the process, how to head off PR disasters, and what to do with weeded materials Includes a dozen sample collection development plans, easily adaptable to suit a library's individual needs Filled with field-tested, no nonsense strategies, this handbook will enable libraries to bloom by maintaining a collection that users actually use.