The Elements Notecards: Set of 10 Notecards and Envelopes (Other printed item)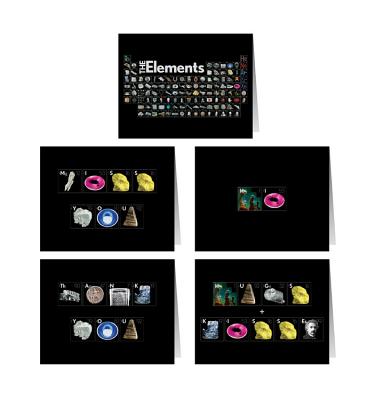 Description
---
Send atomic greetings with one of the 10 elemental notecards included in this unique set.
Based on Theodore Gray's bestselling book The Elements, this unique set of notecards features 5 different designs that spell out messages-like "Hi!" and "Hugs + Kisses" using the elements of the periodic table. The same message is also printed on the inside of the card. Five cards (2 of each) also include "Miss You", "Thank You" and an full image of Gray's complete photographic periodic table with the message inside, "I think of you, periodically."
This set includes:10 full-color, matte-finish notecards.10 full-color envelopes, printed on wood free paperClear plexi box.
About the Author
---
Theodore Gray is the author of the recently released Reactions as well as The Elements, Molecules and Theodore Gray's Completely Mad Science: Experiments You Can Do At Home, But Probably Shouldn't. He is the creator of the bestselling iPad apps "Elements" and "Molecules," which have both been named "App of the Week" by Apple and was Director of "Disney Animated" (also honored by Apple as "iPad App of the Year"). Gray appeared on stage with Steve Jobs several times in his capacity as a software creator. He also co-founded Wolfram Research, Inc., makers of the widely-used software Mathematica and the Wolfram Alpha website. He lives in Urbana, Illinois.

Nick Mann is the photographer of The Elements: A Visual Exploration of Every Known Atom in the Universe and Molecules: The Elements and the Architecture of Everything. Aside from having photographed more elements, molecules, and reactions than probably anyone in the world, he is an accomplished landscape, sports, and event photographer. He also lives in Urbana, Illinois.