International Games: Building Skills Through Multicultural Play (Paperback)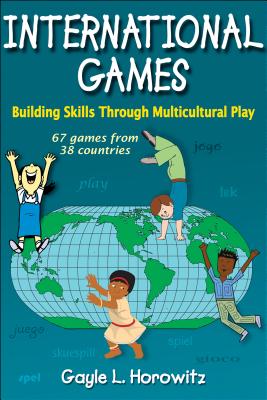 Product may not be available.
Out of Print - The publisher has officially designated the book as out of print.
Description
---
You can find many books that build the motor skills that kids need to succeed in a variety of physical activities and sports. But not many books open kids' eyes to the cultures and traditions of other countries, giving them a greater appreciation for and understanding of the world around them at the same time.
International Games: Building Skills Through Multicultural Play features 65 games from 32 countries. The games build players' physical skills while increasing their cultural awareness, so they focus on the similarities between people no matter where they come from.
The games make your teaching simple and effective. Most games require little in the way of equipment, and in many cases where equipment is needed, it can be made for a small cost. Each game
- is presented in an easy-to-use format;
- includes interesting information on the origin of the game; and
- is clearly illustrated, showing pertinent parts of the game.
International Games is great for physical education class or for an interdisciplinary multicultural unit taught in conjunction with other subjects, such as social studies or geography. To facilitate its use as an interdisciplinary tool, the book includes end-of-unit quizzes.
The book can be used in two ways: You can work progressively by skill or teach the games by region. Activities are arranged so that each activity builds on skills learned in the previous activity. The book includes a game finder so you can easily find the game you want whether you teach by skill or by region.
However you choose to use the games in this book, International Games provides a wealth of ideas for teaching kids about the world while they build their motor skills.
About the Author
---
Gayle Horowitz, MS, is a health and physical education teacher of students in grades 6 to 12 in Flushing, New York. A teacher for 14 years, she has worked with a program called Students with Interrupted Formal Education. This program helps at-risk immigrant students, many of whom become excited about education when they see a game from their native land.
In her spare time, Ms. Horowitz enjoys going on long walks and playing with her twin boys and partner. She also holds a black belt in judo and was the New York State women's heavyweight judo champion in 2004.