Essentials of Team Building: Principles and Practices (Mixed media product)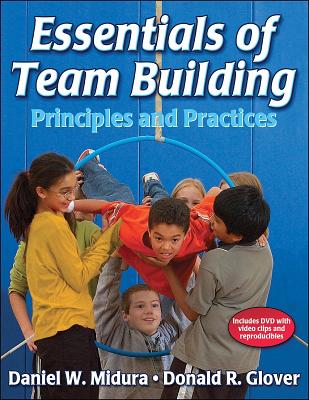 Product may not be available.
Out of Print - The publisher has officially designated the book as out of print.
Description
---

Team building is a proven approach for helping people become respectful competitors, cooperative team members, and community leaders. Now you can help your students or group develop those same important skills with Essentials of Team Building: Principles and Practices.
The authors, with two successful books on team building and 30 years of team-building experience, offer a day-by-day guide for implementing activities and challenges for individual sessions, units, or an entire semester.
The activities and challenges are geared to beginning through advanced participants in a variety of settings, and they help participants develop the following valuable skills:
ï¿œProblem solving
ï¿œAppropriate risk taking
ï¿œBuilding working relationships
ï¿œCooperation
ï¿œLeadership and communication
ï¿œCreative thinking
ï¿œBuilding trust
ï¿œMaking decisions
ï¿œSetting goals
ï¿œDeveloping physical skills
In chapters 1 and 2 the authors introduce the concept of team building, including its benefits, its connection with adventure education and community building, and the process involved in building a team. Chapters 3 and 4 provide assessment tools and safety strategies. Chapter 5 offers a sample college course outline in team building. You'll find icebreaker and community activities in chapter 6, and in chapters 7 through 9 you can choose from an array of introductory, intermediate, and advanced challenges. Chapter 10 provides character development and community-building challenges, and an appendix lays out challenge cards, useful forms, reports, and examples.
In addition, Essentials of Team Building: Principles and Practices includes
ᅵ58 activities and challenges for beginning through advanced teams;
ï¿œreproducible forms for organizing, presenting, and evaluating team-building challenges;
ï¿œready-to-use unit and semester plans with evaluation tools for each activity; and
ï¿œa bound-in DVD with video clips of 25 challenge demonstrations and reproducible challenge and organizer cards.

About the Author
---

Daniel W. Midura, MEd, is a physical education specialist and coordinator at Falcon Heights Elementary School in Falcon Heights, Minnesota. He has been a physical education specialist for 35 years; in that time he has presented at more than 100 conferences and workshops. In addition, he has coauthored three books and was named the Minnesota Physical Education Teacher of the Year in 1994. He was awarded the 1995 NASPE (National Association for Sport and Physical Education) Teacher of the Year for Minnesota and has received other awards and honors in connection with his teaching. He has served as president of the Minnesota AAHPERD (American Alliance for Health, Physical Education, Recreation and Dance) and is an adjunct faculty member at Bethel University and Saint Mary's University.
Donald R. Glover has taught physical education, including adapted physical education, since 1967 at the preschool, elementary, secondary, and postsecondary levels. He currently teaches elementary physical education methods at the University of Wisconsin at River Falls.
In 1981 Glover was recognized as Minnesota's Teacher of the Year and was named the Minnesota Adapted Physical Education Teacher of the Year in 1989. He has written four books, published numerous magazine and journal articles on physical education and sport, and has been a clinician at more than 100 workshops and clinics.
Glover earned his master's degree in physical education from Winona State University in 1970. A former president of MAHPERD, he is also a member of AAHPERD, NASPE, COPEC, and the Minnesota Education Association.