Cardboard (Paperback)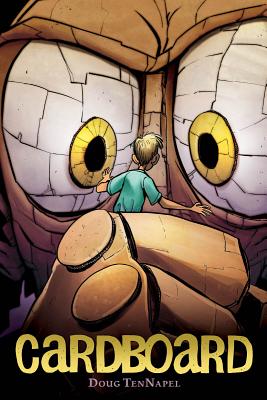 $12.99
Available to Ship from Warehouse - Ships in 2- 5 days.
Fall '12 Kids List
---
"Cam's unemployed father gives him a cardboard box for his birthday. It's certain to be the worst birthday ever, until the man they make from the cardboard comes to life. It turns out that this is no ordinary cardboard and what was the lamest present ever becomes something desired by the rich bully, Marcus. Marcus has a twisted imagination and his creations develop frightening minds of their own, minds that desire the destruction of anything of human flesh. Cardboard explores a father-son relationship, one that grows stronger over the course of the book. Tennapel's fans will enjoy this fast-paced graphic novel."
— Marika McCoola, Odyssey Bookshop, South Hadley, MA
Description
---
When cardboard creatures come magically to life, a boy must save his town from disaster.Cam's down-and-out father gives him a cardboard box for his birthday and he knows it's the worst present ever. So to make the best of a bad situation, they bend the cardboard into a man-and to their astonishment, it comes magically to life. But the neighborhood bully, Marcus, warps the powerful cardboard into his own evil creations that threaten to destroy them all!
About the Author
---
Doug TenNapel was raised in the town of Denair, California. In 1994, he created the popular Earthworm Jim. Doug's graphic novel GHOSTOPOLIS was a 2011 ALA Top Ten Great Graphic Novel for Teens, and his follow-up, BAD ISLAND, is a 2012 ALA Great Graphic Novels for Teens as well as one of School Library Journal's Top 10 Graphic Novels of 2011. Doug lives in Franklin, Tennessee.
Praise For…
---
Praise for Bad Island:
* "A clever, old-fashioned adventure with some modern twists and a light-hearted tone, this, like TenNapel's previous work, is not to be missed." - Booklist, starred review
"An exciting alien adventure." - Publishers Weekly
Praise for Ghostopolis:
* "TenNapel's colorful illustrations are filled with energy and life." - School Library Journal, starred review
"Creepy details, quick quips and a wry, deadpan humor are sure to delight." - Kirkus Reviews
Praise for Bad Island:
* "A clever, old-fashioned adventure with some modern twists and a light-hearted tone, this, like TenNapel's previous work, is not to be missed." - Booklist, starred review
"An exciting alien adventure." - Publishers Weekly
Praise for Ghostopolis:
* "TenNapel's colorful illustrations are filled with energy and life." - School Library Journal, starred review
"Creepy details, quick quips and a wry, deadpan humor are sure to delight." - Kirkus Reviews